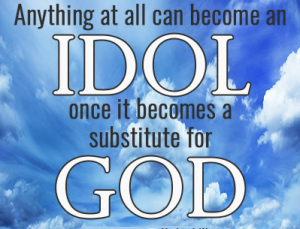 6 Now these things happened as examples for us, so that we would not crave evil things as they also craved. 7 Do not be idolaters, as some of them were; as it is written, "The people sat down to eat and drink, and stood up to play." 8 Nor let us act immorally, as some of them did, and twenty-three thousand fell in one day. 9 Nor let us try the Lord, as some of them did, and were destroyed by the serpents. 10 Nor grumble, as some of them did, and were destroyed by the destroyer. 11 Now these things happened to them as an example, and they were written for our instruction, upon whom the ends of the ages have come. 12 Therefore let him who thinks he stands take heed that he does not fall. 13 No temptation has overtaken you but such as is common to man; and God is faithful, who will not allow you to be tempted beyond what you are able, but with the temptation will provide the way of escape also, so that you will be able to endure it. 14 Therefore, my beloved, flee from idolatry.  (1 Corinthians 10)
What is an idol?
Simply stated, it is a person or a "thing" loved more than God, or wanted more than God, or desired more than God, or treasured more than God, or enjoyed more than God.  Notice the key phrase: more than God.  Idolatry is a sin!  It is included in the BIG 10 (see Ten Commandments – see Exodus 20). It must be handled appropriately, as per God's Word…"Whoever conceals his transgressions will not prosper, but he who confesses and forsakes them will obtain mercy." (Prov 28:13)
You shall not make for yourself an idol…You shall not worship them or serve them; for I, the Lord your God, am a jealous God.  (Exodus 20:4-5)
Idols do not have to be in some form of a statue or image, as some wrongly believe.  Some examples of idols can be a girl/boyfriend, a husband/wife, better friendships/relationships, your family, your children, good grades, approval of other people, your looks, success in business, traditions, a hobby, food, a musical group that you are following, a sport or a sporting event, leisure activities, an immaculate yard, etc., etc. Anything at all can become and idol, even something that starts out as a good desire.   However, once it becomes a focus that trumps our focus on God; it has become an idol.
A good desire can be recognized as turning into a sinful one (a lust: uncontrolled/overmastering desire or craving) when…
…,,,we are willing to sin in order to get the object of our desire, despite the consequences (James 1:14-15).
…,we have negative emotions when we do not get the object of our desire.  In turn, we then choose to lose our true joy (Spirit-filling – Eph 5:18) and doom ourselves to being unfulfilled by going after something that will seemingly make us happy for a short time, but ultimately leave us empty.
Lusting idols is destructive behavior because we exchange the Creator for created "things," such as animals, desires for people – or anything else we desire in Creation above God (Romans 1:21-25). Idolatry is a worship disorder.  And remember, "The way of transgressors is hard" (Prov 13:15b).  Being on the road of idolatry will eventually lead to misery, or sometimes even end in death (1 John 5:16).

Now, where is life and true fulfillment found?  That's simple: only in the Lord!
"The eyes of all look to You, and You give them their food in due season.  You open your hand; You satisfy the desire of every living thing." (Psalm 145:15-16)
God allows us to have many desires.  But what happens when desires become expectations (i.e. something we MUST have to be content) is that they end up being sinful ruling motivators.  These desires then become idols in our lives in which we go after – rather than passionately chasing after the Lord with all our heart, mind, soul and strength.  You must gain self-control (Gal 5:22-23) over any cravings that are prioritized over wanting to please God (2 Cor 5:9) or glorify Him (1 Cor 10:31).  And be very careful: anything, even good things (as I said before), can become idols.
Practically speaking, idolatry can be identified when the following is true…when a person is:
Wanting or desiring something that God does not want you to have or desire.
Wanting something that God wants you to have or desire, but wanting it so much that one becomes ungodly to get it, or becomes ungodly if they don't receive it.
Being controlled by expectations and becoming ungodly in thought, word, or deed when an expectation is not met,
Perceiving a deserved "right" and following through with ungodly thoughts, words and actions to try to get it when the "right" is denied.
Believing in something (a standard or rule), or having any mindset that is against the truth of God's Word, that leads to ungodliness in thoughts, words, and actions.
Therefore, my beloved, flee from idolatry.  (1 Corinthians 10:14)
5 Therefore consider the members of your earthly body as dead to immorality, impurity, passion, evil desire, and greed, which amounts to idolatry. 6 For it is because of these things that the wrath of God will come upon the sons of disobedience, 7 and in them you also once walked, when you were living in them. 8 But now you also, put them all aside: anger, wrath, malice, slander, and abusive speech from your mouth. 9 Do not lie to one another, since you laid aside the old self with its evil practices, 10 and have put on the new self who is being renewed to a true knowledge according to the image of the One who created him— 11 a renewal in which there is no distinction between Greek and Jew, circumcised and uncircumcised, barbarian, Scythian, slave and freeman, but Christ is all, and in all. 12 So, as those who have been chosen of God, holy and beloved, put on a heart of compassion, kindness, humility, gentleness and patience; 13 bearing with one another, and forgiving each other, whoever has a complaint against anyone; just as the Lord forgave you, so also should you. 14 Beyond all these things put on love, which is the perfect bond of unity. 15 Let the peace of Christ rule in your hearts, to which indeed you were called in one body; and be thankful. 16 Let the word of Christ richly dwell within you, with all wisdom teaching and admonishing one another with psalms and hymns and spiritual songs, singing with thankfulness in your hearts to God. 17 Whatever you do in word or deed, do all in the name of the Lord Jesus, giving thanks through Him to God the Father.  (Colossians 3)
Worship God, not idols!!!