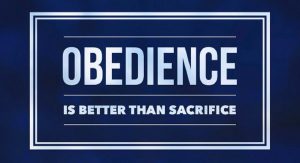 "Has the Lord as much delight in burnt offerings and sacrifices as in obeying the voice of the Lord?  Behold, to obey is better than sacrifice" (1 Sam 15:22a)
In 1 Samuel chapter 13, Saul and his army were waiting for Samuel to arrive to offer a sacrifice before going to war. Samuel had not yet come, and the soldiers were preparing to flee rather than fight the Philistines. Growing impatient, Saul chose to offer a sacrifice on his own. Just as Saul finished the sacrifice, Samuel arrived and said, "You have done a foolish thing. . . . You have not kept the command the LORD your God gave you" (1 Samuel 13:13). Why was offering a sacrifice foolish? Because Saul had disobeyed a direct command from the prophet Samuel given in 1 Samuel 10:8: "Go down ahead of me to Gilgal. I will surely come down to you to sacrifice burnt offerings and fellowship offerings, but you must wait seven days until I come to you and tell you what you are to do."
These seven days were evidently to teach Saul patience and dependence upon God. When he did not wait the full seven days, he showed a variety of weaknesses that made him unfit as king, including impatience and self-reliance. His offering showed that he did not want to work together with Samuel or obey God, but rather take control of the situation himself. The king was to follow the Lord's commands, yet Saul felt he could do as he chose and thus made a foolish mistake. Many valuable lessons can be learned from Saul's situation. First, it is clear that God desires our obedience. Second, much patience is often needed to fully follow God's Word. Third, there are negative consequences when we choose our own way instead of God's. [Taken from: https://www.gotquestions.org/Saul-sacrifice.html]
To obey is better than sacrifice is a dictum reproduced by Hosea (ch. 6:6), the most ancient of those prophets of Israel whose lessons have been preserved in writing; it is referred to in still earlier psalms (see Ps. 50:8–14; 51:16, 17); by other prophets (Isa. 1:11; Jer. 6:20; Micah 6:6, 8); and finally received our Lord's special approbation (Matt. 9:13; 12:7). [H. D. M. Spence-Jones, ed., 1 Samuel, The Pulpit Commentary (London; New York: Funk & Wagnalls Company, 1909), 267.]
Many people make self-determined sacrifices independent of what God desires and asks. What are these sacrifices worth? Simply put, if you make sacrifices to the Lord on your own terms and not on His, save them. They are filthy rags to Him (Isa 64:6). The Bible integrates sacrifice into the life of obedience to God; that is true. But He never, ever envisioned it as a substitute for obedience. Sadly and often, whether consciously or unconsciously, when this ungodly "sacrifice over obedience" disorder takes place, it outputs very ineffective results. Sacrifice over unrepentant obedience is quite often wasted sacrifice, as far as the Lord is concerned.
The prophet Isaiah also addresses the topic of ungodly sacrifice, proclaiming…
10 Hear the word of the Lord,
     You rulers of Sodom;
     Give ear to the instruction of our God,
     You people of Gomorrah.
11 "What are your multiplied sacrifices to Me?"
     Says the Lord.
     "I have had enough of burnt offerings of rams
     And the fat of fed cattle;
     And I take no pleasure in the blood of bulls, lambs or goats.
12 "When you come to appear before Me,
     Who requires of you this trampling of My courts?
13 "Bring your worthless offerings no longer,
     Incense is an abomination to Me.
     New moon and sabbath, the calling of assemblies—
     I cannot endure iniquity and the solemn assembly.
14 "I hate your new moon festivals and your appointed feasts,
     They have become a burden to Me;
     I am weary of bearing them.
15 "So when you spread out your hands in prayer,
     I will hide My eyes from you;
     Yes, even though you multiply prayers,
     I will not listen.
    Your hands are covered with blood. (Isaiah 1)
I have seen many times a person who does something wrong, then proceeds to try to alleviate their guilt by doing something nice or sacrificial for others. For goodness sake…I have even tried this and failed. Any self-contrived way of thinking in which you think you will alleviate guilt and relieve your sin burden without being obedient and partaking in true biblical repentance – it will ultimately be ineffective and lame. Although sometimes unbiblical ways of guilt release do provide a temporary reprieve of negative emotions, it never lasts. Why? Because obedience is better than sacrifice! The only answer to alleviating guilt is true obedience according to the Word of God. In fact, obedience brings abundant blessings (Deut 28:1-2)! Conversely, "the way of transgressors is hard" (Prov 13:15b).
So then…what is the overarching principle of obedience that relieves a person of all guilt, condemnation, and shame? First John clearly tells us this…
This is the message we have heard from Him and announce to you, that God is Light, and in Him there is no darkness at all.  If we say that we have fellowship with Him and yet walk in the darkness, we lie and do not practice the truth; but if we walk in the Light as He Himself is in the Light, we have fellowship with one another, and the blood of Jesus His Son cleanses us from all sin. If we say that we have no sin, we are deceiving ourselves and the truth is not in us. If we confess our sins, He is faithful and righteous to forgive us our sins and to cleanse us from all unrighteousness. If we say that we have not sinned, we make Him a liar and His word is not in us. 

My little children, I am writing these things to you so that you may not sin. And if anyone sins, we have an Advocate with the Father, Jesus Christ the righteous; and He Himself is the propitiation for our sins; and not for ours only, but also for those of the whole world. By this we know that we have come to know Him, if we keep His commandments. The one who says, "I have come to know Him," and does not keep His commandments, is a liar, and the truth is not in him; but whoever keeps His word, in him the love of God has truly been perfected. By this we know that we are in Him (1 John 1:5 – 1 John 2:5) 
"Godly sorrow brings repentance that leads to salvation and leaves no regret" (2 Cor 7:10).
Be obedient…it is better than sacrifice. It leaves no regret, but instead yields true peace and deliverance!
"As far as the east is from the west, so far has He removed our transgressions from us" (Psa 103:12)…that is, only for those who truly repent of their sins!

There is no condemnation for those who belong to Messiah Yeshua [Christ Jesus] – Romans 8:1!!!
For those who would like instructions on how to be saved and delivered, so you can truly be released from all guilt, please click on the following link: http://crustore.org/fourlawseng.htm